Below we'll include the common error messages you can encounter when trying to move a student to another account and how to resolve them. 
Username Required
You may run into this error message if you enter a username into the field and immediately click the Move Student button. In order to move the student, you first need to click the Look Up Account button. 
Account Doesn't Exist

The Account Doesn't Exist message appears when the username entered is not currently a registered email. If the email/phone number entered is correct then we recommend updating the Account Login instead. 
The Destination account is not a part of your organization:
When you encounter this error message the only way to resolve it is to reach out to the parent and ask them to go to your SchoolMint site and use their existing username and password to log in. This will add your organization to their account. Once they add your organization to their account you'll be able to move the student. 
No Guardians in the Destination Account: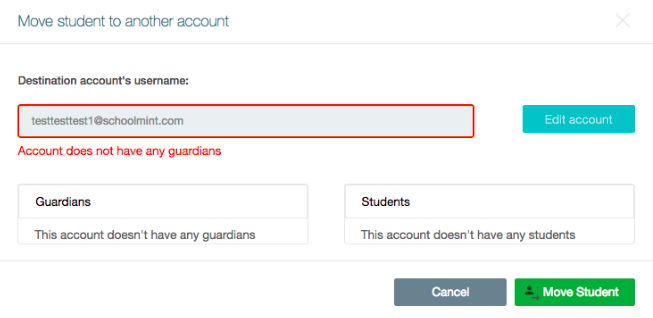 Sometimes parents will create an account but not complete the account setup process. If the parent does not add a guardian to the account, you will not be able to move the student. There are two ways you can resolve this issue:
1. You can contact the parent to have them finish setting up their account then complete the move. 
2. Go to Admissions > Accounts without an Application and look for the username. From there you can click Continue Application and finish the creation of the account on behalf of the parent. 
Join Homeroom - the SchoolMint Customer Community
We built this community to help successful SchoolMint educators connect, share best practices, and learn from each other in our unique, helpful, and fun environment. Inside Homeroom, you will find actionable content that's worth sharing with your team and educational activities that will help you optimize your use of all SchoolMint products. Click here to claim your seat in Homeroom.