Viewing the Waitlist
The Student Index tab will allow you to view a list of students who have applied to schools in your organization. These can be filtered by several fields: School, Application status, Priority and/or Grade:
To view the Waitlist for a given school and grade, you must use all the filters:
1. From the School dropdown, select the school whose waitlist you wish to view: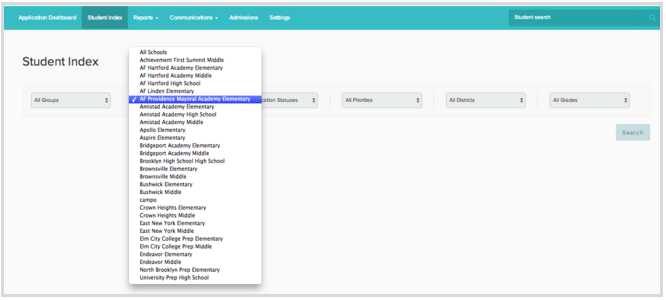 2. From the Application Status dropdown, select "Waitlisted":
3. Keep "All Priorities":
4. From the Grade dropdown, select the grade you wish to view:

5. Click the Search button. Then, a table with all students on the Waitlist will show:

Sorting by Waitlist Number
If you need to sort by Waitlist number (W-1, W-2, W-3…..W-75, ETC), simply click on Application Status in the table header (Your first click will show the waitlisted students from top-to-bottom, and your second click will show them from bottom-to-top):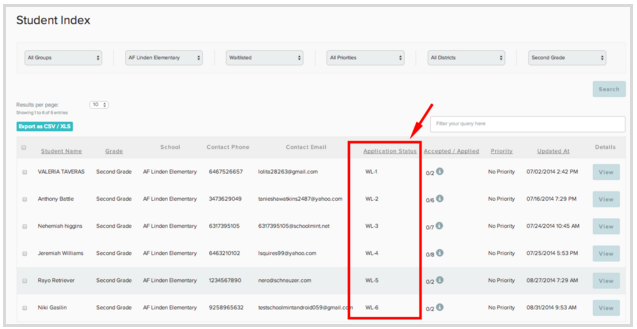 How Is the Waitlist Ordered?
Your Waitlist will be ordered according to the Priorities you set for your school during the Lottery. Depending on your waitlist logic, after the Lottery is done, either:
waitlisted applicants meeting one or more of the Priorities will be placed at the top of the

Waitlist;

waitlist applications will be added to the bottom of the Waitlist, in order of their application submission date.
The waitlist also takes into account the global lottery number that a student receives randomly when being run in the lottery. Those random numbers are used to order students in the sub-lotteries, so let's say there are 3 students with the sibling-attending priority and that is the first sub-lottery.
Student A has lottery number 50, Student B has lottery number 5, and Student C has lottery number 17. Their order in that first sub-lottery would be Student B, C, A.
This same logic holds true even after the lottery, so if a student who dynamically receives the sibling attending priority moves up on the waitlist, they may move up ahead of other students on the waitlist with a sibling attending priority because their global lottery number is higher.
Adding post-Lottery Applications to an Existing Waitlist
Applications can be submitted post-Lottery to a school with an existing Waitlist. These applications will be placed at the end of the Waitlist in order of application submitted date.
Waitlist Movement
If any existing waitlist applications are withdrawn, all subsequent waitlisted students will move up one position. This will happen each time a student moves off of the Waitlist or when a waitlist student is moved to Offered status.
-------------------------------------------------------------------------------------------------------
Still have questions? Email us at support@schoolmint.com.