Making Offers to Students Getting in Through Lottery
After the Lottery is run, you will need to manually make offers to everyone who got in through the lottery. When you run the lottery, no offers are made automatically.
Understanding Available Seats
After the Lottery is run, in addition to the students who got in through the lottery (remember that you need to make offers to them, too) you will also automatically have applicants who are eligible for offers if there were available seats saved for the grades in your school.
The Open Seat Setup will tell you how many seats you have Available by deducting your Current Students from Budgeted Students:
Finding and Selecting Students to Make Offers to
You can view and extend offers to all of your students eligible for offers by going into the Admissions tab on your Main Menu:
On the Admissions page, click on Make Offers :
On the Make Offers page, select the School and Grade you would like to make offers for.
On this page you will see everyone who got in through the lottery and anyone at the top of the waitlist if you haven't yet met your open seats.
Click on Lottery # in the header to sort by the Lottery number:
Click on the checkbox for Select/Unselect All to select all eligible applicants, or click on individual checkboxes to select individual applicants to offer.

Click Save to save your selections without making offers.
The next time you view the table, the selected applicants will load in the selected state.
Officially Making the Offer
When you are ready to officially make the Offer, click Make Offers Public . This will provide the selected applicants with the options to Accept or Decline the offer.
Making Offers to Students with pre-Offer, Waitlist, Submitted, Status
You can also make individual offers for a student in pre-Offer, Submitted or Waitlisted status on the Applicant Profile.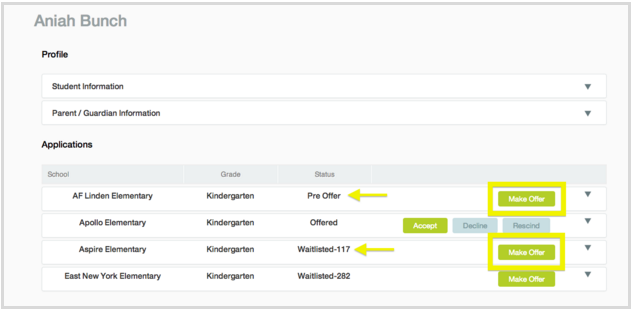 -------------------------------------------------------------------------------------------------------
Still have questions? Email us at support@schoolmint.com.