Universal Student Search will allow you to search for multiple types of records, such as registering and re-enrolling, at once!
With Universal Search, you can search for a student's name, email or phone number via the Student Search box in the actions banner:
Universal Search will then return any records that match your search criteria. For instance, when searching for "Katy", Universal Search returns all records that contain that string, including "Katyana Judson":
Universal Search also returns students across all phases of the enrollment cycle. As shown above, the results show applying students (Katyana Judson), registering students (Katy Jones) and re-enrolling students (Katy Burk and Katy Johnson) in their respective statuses. Furthermore, the search returns Katy Michaels, who does not yet have an application, registration or re-enrollment in this school year.

Once identified, you can use the Actions column to navigate to the specific record. For example, if I am interested in seeing details for Katy Johnson, I can click on "View in Manage Re-Enrollments":
This will take me to Katy Johnson's record in the Manage Re-Enrollments section. I also have the ability of returning to the previous student search results via the "Click here" link in the yellow banner: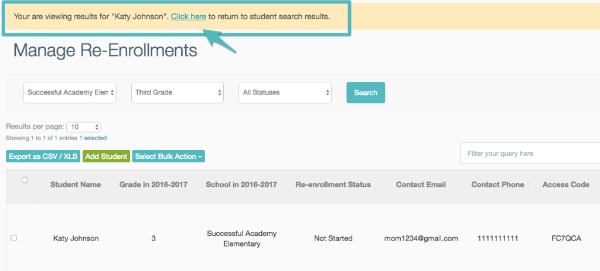 Finally, from the Universal Search results, you can also navigate to the record's Student Profile via the Student Name column:
We hope that Universal Student Search will allow you to quickly find student records. If you are interested in utilizing Universal Student Search for your organization, please contact us at support@schoolmint.com.
------------------------------------------------------------------------------------------------------
Still have questions? Email us at support@schoolmint.com.