Hero Custom Groups
Custom Groups is a great way to create personalized groups of students to track in Hero based on needs outside of regular classroom rosters.
Step 1: Select the "Groups" icon from the left menu.
Step 2: You may add/edit to an existing group, or you may add (+) a new custom group.
Step 3: To add a new group, enter a Group Name.
Step 4: Use any of the search fields to find students for your group. Then select "Search".
Step 5: Select the students for your new group. Their names should appear in the roster at the bottom of the pop-up.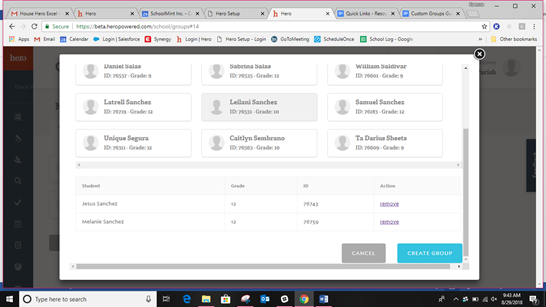 Step 6: Continue to search and add students as needed.
Step 7: Select "Create Group" when finished.
A new tab has been added for your new group. You may always go back edit the group as needed, or add more groups.
To activate this feature, follow these steps:
*Must be activated by All Rights user.
1. Select "Enable Custom Groups" from the Setup Dashboard.
2. Select "Allow Custom Groups" for each Role that should receive access to Custom Groups. (*inside "Users" icon of setup portal)
For additional assistance, please contact our Hero Support Team
Email: herosupport@schoolmint.com
Chat: Live Chat