INCENTIVES PLAYBOOK: Raffle Drawings
Option 1: No Redeeming Points Necessary!
Use the Daily Activity Report to select a random student and staff winner. The more positive behavior tracks listed, the more chances to win!
Because this option is so low-maintenance, you can continue holding daily or weekly raffles for small incentives like pencils, early to lunch passes, or jeans passes for teachers. Reserve larger incentives for monthly or end-of-term raffles.
Use the morning announcements to announce the winners each day or week to keep the Hero hype going!
Option 2: Students Spend Points to Enter Drawings
In this example, students will actually redeem their Hero points in exchange for an entry into a raffle drawing. You may choose to only have one incentive that is being raffled, or you may choose to have several incentives that are being raffled. Entry costs for each incentive may vary based on the incentive being offered. This allows students to choose how they'd like to spend their points without the need to keep full inventory stocked in a school store.
Instead of providing a paper raffle ticket to a student, you can use the Daily Activity Report to select a random winner for that specific incentive purchase.
Raffle drawings are so easy to operate, that they should be sprinkled in regularly! Consider scheduling raffle drawings for small, medium, and large incentives throughout the year.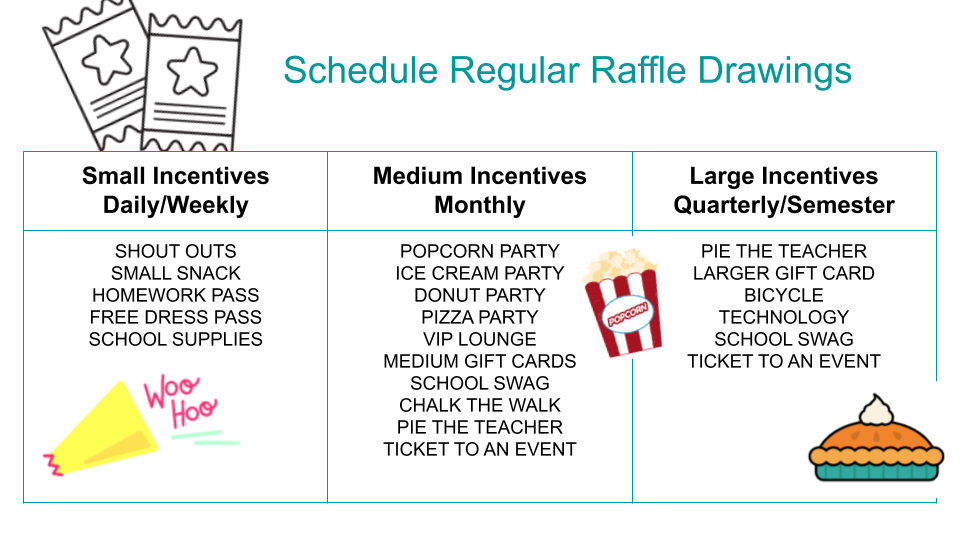 Pros, Cons, and Things to Consider
Pros: Easy and low maintenance!
Cons: Not all students will win a prize.
Things to Consider:
What will you raffle off?
How many winners will there be?
Can we get items donated?
How often will we have raffles?
What small, medium, and large incentives can we raffle?
What incentives can teachers win in the raffle?
How will students know we are having a raffle?
When will we announce the winners?