INCENTIVES PLAYBOOK: Goals & Thresholds
Step 1: Determine the Incentive and Date Range
Decide if you will offer one incentive, perhaps an event - or offer multiple incentives at varying levels. Determine how long students will have to earn towards this incentive.
Level 1: Bronze

Level 2: Silver

Level 3: Gold

Popsicle Party

Free Dress Pass

Yogurt Coupon

Certificate

Donut Party

Goodie Bag

Small School Swag

Popcorn at Lunch

Pizza Party

Pie a Teacher

Karaoke Party

Medium School Swag
Step 2: Determine the Target Points
Determine what is a reasonable amount of points for students to work towards in order to receive the incentive in the allotted amount of time.
You can create Target Points in the setup portal dashboard that will appear as a progress meter in the student app.
Step 3: Monitor the Points
Student Points: Students can log in to their Hero student app or web account to view how they're progressing toward the goal.
Student Points: School users should monitor the schoolwide points report to view how students are progressing toward the goal.
Staff Usage: Admin should monitor the school activity report to ensure that staff members are awarding Hero points fairly.
IMPORTANT: Students will only be able to reach the goal if their teachers are consistently and fairly awarding Hero points. There's nothing worse than having to tell a sweet student that they did not reach the target point goal to receive the incentive, only because their teachers did not award Hero points consistently.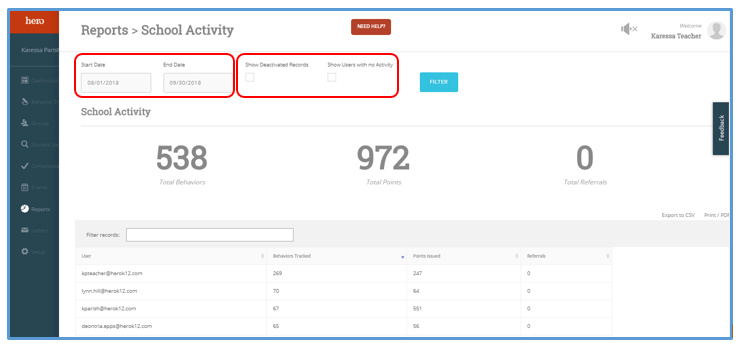 Step 4: Provide the Incentive
Pull the Schoolwide Points Report on the final day of the cycle to determine which students have met the goal and qualify for the incentive. You can export the list out to CSV to share with your staff.
Tips, Tricks, and Ideas
Reset Points Each Cycle!
Goal-based incentives work best when you reset your Hero points each cycle so that students and staff can easily view how they are progressing toward the new goal. Use Deactivate Records in the Hero setup portal to reset your positive behaviors for each new cycle.
Hold Competitions!
You can use the same mindset to have grade-level competitions. Set the date range and the grade level with the most points wins the prize! Export the Schoolwide Points Report to a CSV and create a quick pivot table to generate a grade-level leaderboard!
No Tardy Party!

Use the Accrued Records Report to search for students with 0 Tardies or 0 Dress Code Violations for a specific date range. Invite those students to an incentive party, or deliver an incentive to their homeroom class.
Pros, Cons, and Things to Consider
Pros: Easy and low maintenance!
Cons: Students are at the discretion of how their teachers award points. Some students may not receive the incentive for unfair reasons.
Things to Consider:
What will students earn?
How long do they have to earn points?
What is the target point threshold?
Who will help manage the event or deliver incentives?
How will you monitor student points and staff usage?
Who is responsible for pulling the reports?
How do students and staff know what the goals and incentives are?