What is covered in this article?
Post-Launch Review and Verification of Registrations
Once your registration has launched, and data is flowing in, there are several ways for you to review the data and verify that these registrations are complete. To do this, please navigate to Admissions > Manage Registrations.

Actions Available for Individual Students
View Student Profile - Make updates to username, password, address, etc.
Update Forms - Make additions or revisions to registration form responses on behalf of families
Checklist - Click to verify that all items have been reviewed. Uploads and milestones are added as their own line items. This action will update a student to "Registration Verified" status
View PDF - See a snapshot of all answers in that particular student's packet
Generate ZIP - Download this student's registration packet for your records
Actions Available in Bulk
View overall Registration Progress
Form/Upload Completion - See which forms/uploads students have completed
Email/Text Reminders- Give reminders to groups of students in specific statuses
Print Forms - Print specific forms or uploads for groups of students
Generate Zip - Save a file of registration packets for your records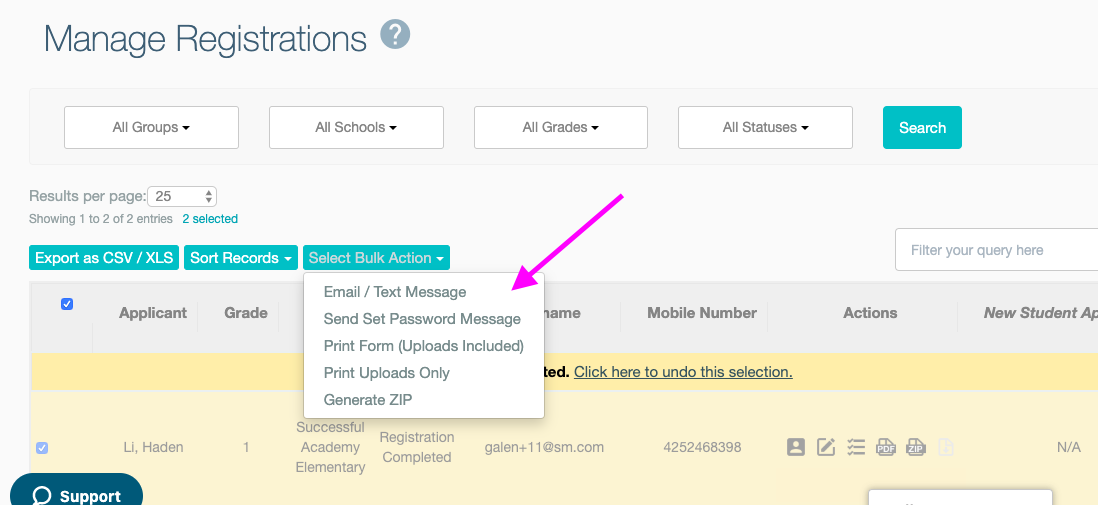 --------------------------------------------------------------------------
Still have questions? Email us at support@schoolmint.com.