What is covered in this article?
How to Complete a Registration on behalf of a family
Step 1: To complete a Registration packet for a student, go to Admissions > Manage Registrations and look for the student
Step 2: Click the pencil icon to edit the Registration Forms. This will take you to all of the forms in the registration packet that the family needs to complete.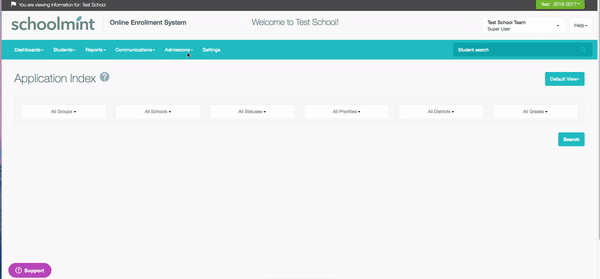 Step 3: Click the tab for each form to expand the select, and make sure to complete all required questions (all required questions will have an asterisk at the end of the question).
Step 4: Once you complete all of the required fields click Submit Forms, or you can click Save and Continue Later to save your progress. **Please note that we suggest saving your progress frequently especially if you are completing a long packet
Form Validation of Required Fields
If you try to submit a form that is missing required fields the missing fields will be highlighted in red
Once all required fields are completed, you'll be able to successfully submit the forms. This will change the student's status from Registration in Progress to Registration Completed.
--------------------------------------------------------------------------
Still have questions? Email us at support@schoolmint.com.