What is covered in this article?
If you need to add a new Notification, such as for a specific school, you can click + Add Notification: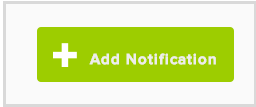 You will then need to select the School Name, Language and Notification type. There are a limited number of Notification types, because each of these must be associated with an action (and there are only so many actions!)

You can also cc yourself on these school specific notifications:
On the Manage SMS and Email Templates page, you can also edit that specific schools' settings for Email Address and Name:
Important Things to Note:
- Some notifications are only available to edit and customize at the Organization level and cannot be made at the School level:
School Specific Available Notifications: Make Offer, Accept Offer, Decline Offer, Rescind Offer, Publicize Waitlist, RSVP Submitted, Registration Completed, Registration Verified, Guidance Counselor Request
Organization Default Only: Cancel Application, Edit Application, Submit Application, Withdraw Application, Admin Assign School, Admin Create Account on Behalf of, Interest Signup Reset
- Only Super Admins will be able to see and edit Organizational Default Notifications
If a School Specific Admin would like to create a School level template, when they click on "Add New Notification" it will load the Organizational Default set up by the Super Admin as the base template. The Admin will be able to review the template and make any changes, however if they do not want to make any changes they can simply click Cancel and use the default.
------------------------------------------------------------------------------------------------------
Still have questions? Email us at support@schoolmint.com.